Pet ownership increased during the pandemic, but COVID-19 resulted in a slow-down in the demand for pet grooming and boarding services. Moving forward, the pet grooming industry is expected to repeat the strong performances of the past, with a rapid recovery expected. As people start returning to work, they are expected to spend more of their disposable income on their pets.
Understanding the latest dynamics of the pet care industry
Data announced by the American National Pet Owners Association (APPA) on March 24, 2021, indicate the actual money spent in the Pet Industry during 2020 was $103.6 billion. Despite the effects of COVID-19, this was an increase of almost $6 billion from the previous year.
The sum spent on pet services in 2020 amounted to $8.1 billion. These services include grooming, boarding, walking, and training. More growth is expected for 2021 in this sector, projected to rake in $9.7 billion.
The first two months of the pandemic saw a decline in overall appointments for dog walkers, trainers, groomers, and pet sitters. However, after that, pet training and grooming services made the fastest recovery. The biggest impact was felt by dog walkers and sitters. The demand for their services dropped since most people were working from home, and hardly anyone was traveling anymore.
Bold pet groomers pivoted to mobile grooming services
From March 2020 onwards, many pet grooming salons lost a lot of business when the pandemic rules forced them to close their stores in April and May. By early June, the demand for pet grooming services started growing again, and many groomers found creative ways to serve their customers.
APPA data from 2019 shows that there are 90 million dogs in the U.S. These dogs are owned by 63 million households. For many intrepid pet groomers, the answer lay in getting themselves out to their clients, since the demand for pet grooming remained strong.
This is not a new service and is especially popular with owners of large dog breeds, dogs with special needs, older, and anxious dogs. Generally, it is easier to groom difficult pets in a setting they are more familiar with.
Professional pet groomers make sure their mobile units are sanitized between pet grooming sessions. Even though there is a very low risk of spreading the coronavirus between animals, they are always wary of all types of germs, bacteria, and viruses.
Starting a mobile pet grooming service
Whether a business already has a bricks-and-mortar store or is starting directly as a mobile grooming service, several areas need preparation to lay the ground for a successful start to the business.
1. Financing
It doesn't mean that because a business is on wheels its running costs are less to run than a pet grooming business at a fixed location. Besides the vehicles required, equipment procurement will also set the business owner back quite a bit. Professional grooming supplies are also essential. Licensing, maintenance, insurance, and marketing are vital expenses that the business owner needs to plan for.
2. Stand out from the competition
As with all businesses, there is bound to be competition out there. Every serious business owner takes the time to assess their competition and to promote the unique services they offer.
3. Appointment management efficiency
Two areas need special attention when setting up a grooming service that entails driving around. The first one is to make sure the coverage area is not too large. The consequences of this are groomers may end up spending more time driving around than getting paid to groom.
The second problem is insufficient appointment management. Mobile pet grooming works better when appointments can be pre-booked, confirmed, and properly lined up. This makes the whole process more cost-effective. The better the planning, the more effective time and expenses are managed. Groomers are ensured a well-laid-out schedule that allows them to maximize the time available to them.
Groomsoft – Mobile Grooming Software for Improved Efficiency
Groomsoft takes mobile grooming seriously and understands that every business needs efficient planning if it is to turn a profit. This is where the features of Groomsoft's Mobile Grooming Software can help save time, money and increase the revenues for groomers on the go.
Here are some tips on how the features of the software can take business for mobile groomers to the next level:
1. Optimized route 
A 30-minute drive time between appointments can mean that on a day with 6 grooming appointments, 3 hours are lost. The Optimize Route feature gives the grooming business a list with the optimized way to schedule appointments. This works well when creating appointments for new and existing customers.
The feature allows the manual reordering of appointments for clients that cannot have their times rescheduled. On the optimized list, the groomer can see everything from the appointment start time, the customer's name, the pet names and breeds, address, and where they can park on arrival thanks to Street and Satellite views.
Groomsoft also has options like avoiding highways, tolls, ferries, etc. Groomers can also opt to have their first stop at the nearest or furthest point. After you make optimize route selections and click the Optimize Route button, Groomsoft saves those values under the currently selected groomer so that next time, those values will be pre-set for you.
2. Smart scheduling
Customer profiles are more detailed with the new addition of the Neighborhood and Street 2 fields. Groomers can now cluster their appointments in single neighborhoods.
The "Show When I'm Close" button allows for smart scheduling. Business owners can see a list of upcoming appointments and how close they are to customers. This is a great feature for scheduling future appointments with new or repeat bookings.
3. Ensuring a full calendar
A full calendar is ideal, but there are days where things can be slow or clients call in with a cancellation. With Groomsoft, groomers can contact clients due to having their pets groomed in the vicinity. The software has their contact details, so they can be contacted quickly to fill in any gaps on the calendar.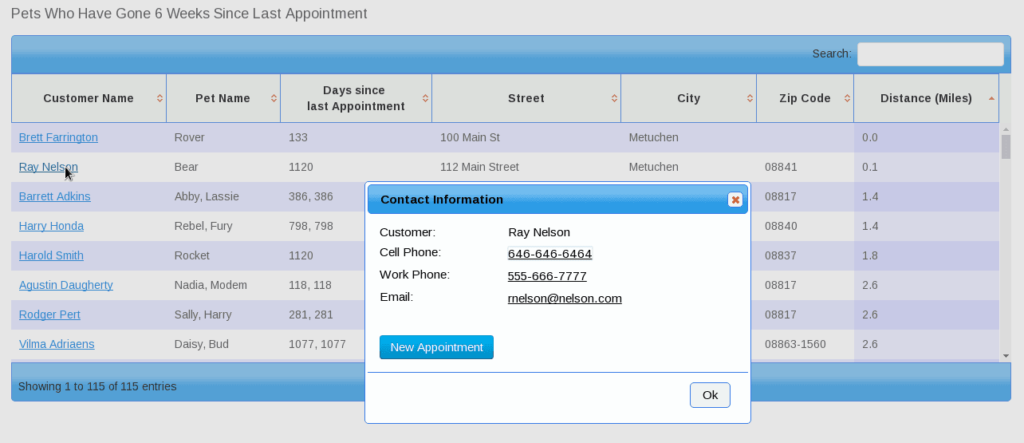 4. Automatic mileage tracking
Mileage can be added, edited, or deleted from the automatic mileage tracking, for a system that allows the business owner to have full control of the mileage clocked. This feature offers a mileage report for each truck for tax purposes and assignments, but also allows the business owner to keep a detailed and updated list of all specifications of the vehicles in their service.
5. Updated map platform
Groomsoft has upgraded its mapping engine from MapQuest to Google. The map allows the driver to switch between map and satellite views and can monitor traffic with the live traffic toggle button. There is also a street view option, and each stop is clickable to show the full information of the upcoming customer.
The addition of a Maps Home Garaging feature allows groomers to schedule their day to start or end from any location, including their home or the salon.
6. Customer Reminders
No shows are the worst thing for a grooming business. Mobile groomers need to know that when they get to their appointment, the pet owners are expecting them. Before the appointment, reminders need to be sent out, and Groomsoft makes this easier than ever with scheduled email or text message reminders.
A final word as you go mobile
Running a pet grooming business is not always easy. Covid-19 made mobile pet grooming more popular, and the service has lots of growth potential. This is a demanding line of work that requires professionalism and patience. Every groomer is dealing with customers that entrust their precious pets to them.
Besides professional grooming, customers also expect their appointments to be slotted in at times that suit them, and they expect punctuality.
Groomsoft's Technology is the most cost-effective technology to help every mobile grooming business connect easily and effortlessly with clients. It ensures every mobile grooming unit is run professionally and seamlessly.
Happy human and dog clients are the aim of people in the grooming business, but Groomsoft's technology also helps pet grooming business owners to run their enterprise in a time and cost-efficient manner.
Time is money, don't delay
Our Readers Want to Hear From You!