Americans have one of the highest rates of cell phone ownership in the world, 96% actually owning one and each household has at least 3. It is believed that currently 81% of these are smartphones.
Unfortunately, cell phone usage is one of the reasons for the high accident statistics on the roads and it is estimated that 1.6 million crashes, resulting in 390,000 injuries. In 2017, distracted driving resulted in the death of 3,166 people and all statistics show that texting is by far the most dangerous activity. It is 6 times more likely to cause an accident than driving drunk, according to insurance and law firms in the US.
marketing experts, 74 trillion emails are sent each year, a mind boggling number when compared to the 8 trillion texts that are sent. Yet, the statistics on which are opened don't correspond to the volumes. Read on to find out which are the better reminders for pet grooming appointments for your customers.
Text Message Appointment Reminders versus Email reminders
Continuing with the statistics of the experts, of all those emails only 20% ever get opened. However, SMS open rates are a whopping 98%, opened within less than 90 seconds. Response rates to emails are also minimal, only reaching 6%, with SMS response rates reaching 45%. Marketing research has shown that 60% of consumers have a positive impression of companies that contact them via text message and they are an effective way for companies to communicate with their customers.
With metrics like these it's obvious that text messaging is far more effective than email, but you may be wondering why.
Emails cannot be checked frequently, especially if your clients are at work or busy driving around. They often also get lost in the volumes of emails that people get in a day, and often also end up in the spam section, where people hardly ever venture. Many people are wary of opening emails from a source that they are not familiar with in case it contains malware through its links. Often emails are not received as instantly as SMS because they are dependent on a server.
Text messages are brief and to-the point and customers don't have to wade through other information. From the moment that the sender presses the "send" button, the recipient instantly receives the SMS and can see it on their screens. Besides being a useful tool to use as a reminder for your pet grooming clients, SMS is an invaluable marketing tool and is a more intimate way to interact with clients. SMSs appear on the screen of cellphones and their content can be discreetly scanned in a matter of a few seconds, this can be done at any moment during their busy day and from wherever they are. SMS allow customers to respond instantly if necessary.
If you want to effectively send out appointment reminders to reduce "no shows" then you must use Groomsoft's  Text Message Appointment Reminders to instantly reach your customers, guaranteeing that they will be read by them in real time.
About Groomsoft Text Message Appointment Reminders
Text message appointment reminders can be sent once or twice prior to each appointment based upon your settings.
The first reminder will show all the pertinent details of the appointment and ask your customer to confirm by replying Yes. The second reminder will show all the pertinent details of the appointment and if the customer has already confirmed their appointment, they won't be asked to confirm again. If your customer has not confirmed the first reminder, the second reminder will ask them to confirm.
You set how many days or weeks prior to an appointment you would like one or both of the appointment reminders to go out based upon your pet grooming business needs. Text Message Appointment Reminder Settings are shown below.
Confirming appointments via Text Message
A customer can confirm their text message appointment reminder by replying Yes or if your business is in Canada, customers can reply Oui.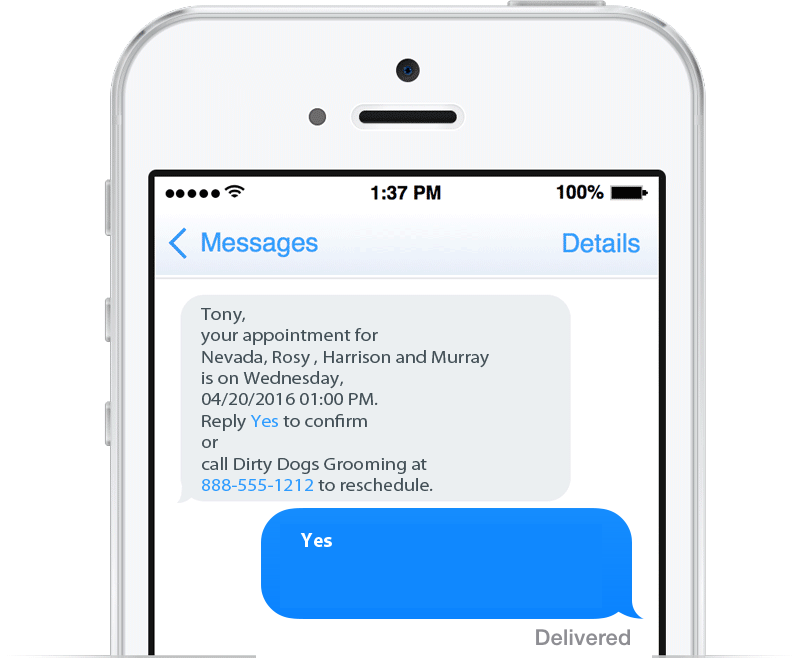 Once your customer replies, the appointment status will change to "Confirmed via SMS" so that you know your customer has confirmed.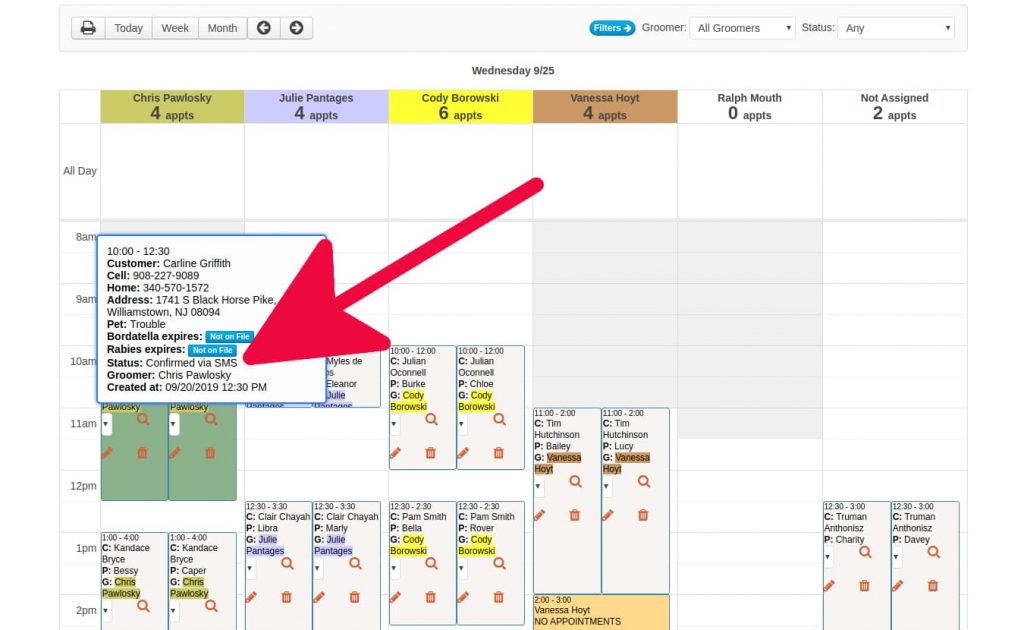 Groomers have told us that the text messaging reminders virtually eliminate their no shows. Is it any wonder with open rates as high as 98%?
How to set up Text Message Appointment Reminders in Groomsoft
Go to the Settings menu option and choose Calendar Settings.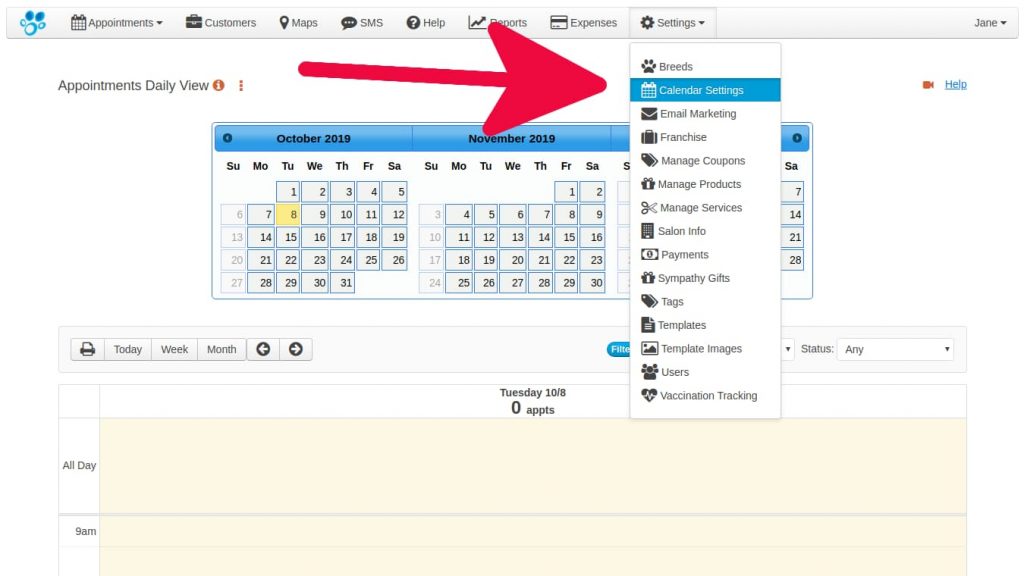 Click on the Appointment Reminders link.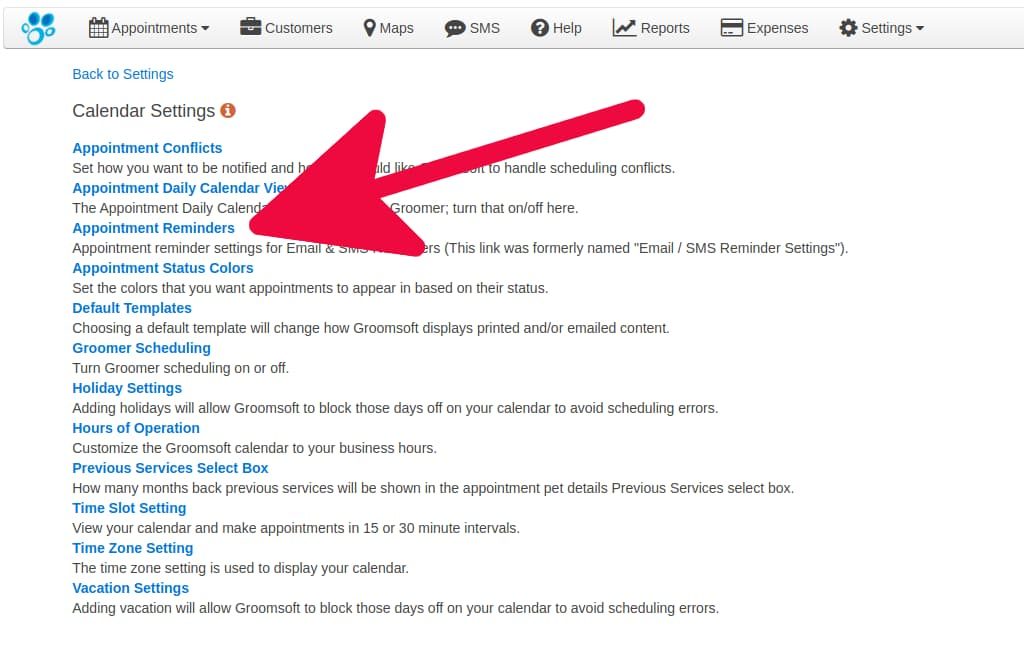 Set the "Send SMS appointment reminders" option to Yes.

If you want to send Text messages to your customers from Groomsoft or answer their text messages, set "Send SMS via Groomsoft Messenger" to Yes.

Groomsoft can remind your customers twice prior to an appointment. Use the "When to remind – 1st reminder" to set when the 1st reminder should be sent and if you wish to send a second reminder set the value of "When to remind – 2nd reminder".

For instance, you may want to set the first Text Message Appointment Reminder at 1 week and the 2nd at 2 days prior. The choice is yours!

The "SMS Reminder Message" field is used to add additional text onto the end of default Text Message Appointment Reminder sent by Groomsoft. You can add your cancellation policy here or a reminder to bring updated vaccination certificates…etc

Click the Save button to complete your settings and reduce your grooming appointment no shows!
If you're not a part of the Groomsoft family, be sure to join at the Groomsoft Website.
Watch the full video tutorial.
Our Readers Want to Hear From You!